2009 – September 2014
F1's Official twitter account was created in August 2009, just prior to that year's Belgian Grand Prix weekend. Its activity was merely a simple list of automated tweets taken from the then-official F1 website's RSS news feed, simply linking to the respective news article on the website: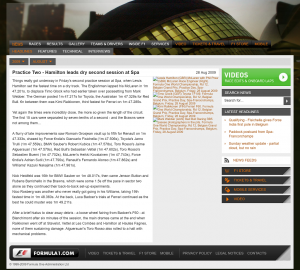 September 2014 – December 2014
This stayed the same until the 19th of September 2014, during the Singapore Grand Prix weekend, when the first ever twitter-exclusive post occurred:
Look out for new and exclusive #F1 graphics over the #SingaporeGP weekend…

— Formula 1 (@F1) September 19, 2014
True to their word, the first "exclusive graphic" to follow was this:
Here is the first… #F1 #SingaporeGP pic.twitter.com/BtyziZLoNJ

— Formula 1 (@F1) September 19, 2014
Followed by screen-captures from the World Feed and other photos:
A loose wing mirror early in #FP1 for Nico Rosberg at @MercedesAMGF1 #SingaporeGP #F1 pic.twitter.com/hSBWi4fM6R

— Formula 1 (@F1) September 19, 2014
Noticeably, Sky Sports F1 (at least in the UK) which had been also tweeting these sort of World-Feed screen-captures since the start of their coverage in 2012, stopped doing this by the end of the year. It was also at the 2014 Singapore race where the World Feed graphics encouraged us to "Join the conversation" and displayed the hashtag #SingaporeGP for that race:
Suggestion would be to integrate the #SingaporeGP into TV graphics somehow to drive and enhance online conversation

— The F1 Broadcasting Blog (@f1broadcasting) September 19, 2014
I don't have an influence…. I, um, promise? #SingaporeGP https://t.co/E66S7t0ErX pic.twitter.com/NUHABgUNpb

— The F1 Broadcasting Blog (@f1broadcasting) September 19, 2014
As well as these graphics, the twitter account became less of an RSS-feed regurgitator and became more of your standard social-media marketing tool, tweeting reminders to upcoming events & links to articles on the F1 website.
For more on the 2014 Twitter re-launch, see here: https://f1broadcasting.co/2014/09/19/f1s-twitter-page-finally-hits-the-21st-century/
2015
In 2015, and notably after the launch of the new official website just prior to the start of the opening race weekend, F1's twitter feed became slightly more graphics heavy (plenty more World Feed screen-caps) and slightly less formal. However, there were still no videos posted on Twitter as of yet (although there were plenty of links to videos on both the official website and the official YouTube channel).
2016
2016 in the history of the official F1 Twitter account was the year of the emoji, a trend that continues to this day, with tweets now even less formal than before and suitably jazzed-up via the liberal use of emoji icons.
As well as this, unique and exclusive video content began to be directly posted to Twitter (typically short mobile-friendly clips), as opposed to simply linking to a video on one of FOM's other platforms.
2017
Come 2017, and following the acquisition of F1 by Liberty Media in January of that year, business was very much as usual in terms of the official F1 Twitter account in 2017, with more videos being cross-posted to Twitter & FOM's other social platforms. Following the Abu Dhabi grand prix, the new logo was introduced.