September 2008 to March 2015
In September 2008, FOM started uploading full onboard laps of the Pole sitter's qualifying lap to the official F1 website, along with "Race Highlights" – short clips of the race itself synchronised to a music track (now known as a "Directors Cut". These (along with other services such as live timing and PC wallpaper images) required registration & sign-in, albeit this was free to do: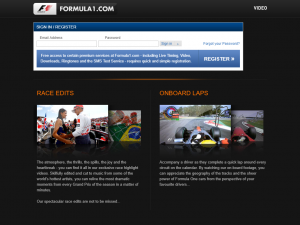 Additionally, other short videos (mostly technical analyses & explanations) were incorporated into the news articles regularly posted to the website, which did not require registration to view. This practice continued up until the launch of the new official F1 website in March 2015.
March 2015 to present
On the 12th of March 2015, the Thursday before the Australian Grand Prix that year, F1's new website was unveiled. It was a total redesign from the ground up, and featured an all new videos section. To launch the section, FOM uploaded around 160 videos that were originally posted on the F1 mobile app in 2014.
Alongside the launch of the new website, came "F1®ACCESS", a subscription package whereby paying users could access live timing features on the F1 mobile app & website. Originally, certain videos were available only to paying F1®ACCESS subscribers, predominately those that featured footage taken straight form the race broadcasters (press conference interviews & race highlights videos).

As the above example shows, out of the 24 videos that were uploaded for the 2015 Monaco Grand Prix, 14 required an F1®ACCESS subscription to watch. Over time, the number of videos requiring a subscription to watch decreased, until as of 2016, no new videos required a subscription to watch.
As well as the videos listed in the main "Videos" section, FOM also embedded videos within relevant news articles, including several exclusive onboard clips or technical analysis pieces.
Part-way through 2015, FOM started uploading videos featuring the driver's "own language" comments (for drivers whom English isn't their first language) from the post-race sit-down press conference, with the video title matching the language spoken by the driver. This was discontinued part-way through 2016.
Shortly after the 2017 Bahrain Grand Prix in April 2017, the resolution of the videos uploaded to the website was increased to 1080p25.
Some of the earliest videos uploaded to the new website are, as of 2017, no longer available to view (apparently due to a technical error), although they still appear in the video listings. Also, a small number of videos uploaded during the early days (2015) have been removed entirely and no longer appear in the video listings.